According to the U.S. Department of Energy (DOE), many centrifugal pumps may be less than 50% efficient but have the potential to improve by 20-30% through various upgrades and system changes. Pump Upgrades not only improve performance, maintenance and repair issues, but they also improve efficiency as well, so they will extend pump life and reliability. Pump Upgrades prevent expensive products from deteriorating; they can even prevent pump leaks that can result in costly cleanups and fines from regulatory agencies. In most cases, reduced downtime eliminated by the pump upgrade outweighs all other benefits.

In difficult times, it may be hard to allocate the funds for the upgrades, but the payback for doing pump upgrades is extremely quick. The resulting savings from the upgrades frees up funds that otherwise would have been wasted on energy, and more expensive repairs at a later date. In almost all cases, the incremental costs of upgrades are minimal when compared to the loss in downtime and expensive repairs.

Plant Outages, Ship Overhauls, Building New Vessels, Building New Manufacturing Plants, Plant Expansions, and New System Installations are good opportunities to specify pumps with upgraded efficiency and reliability features such as Simsite® Structural Graphite Composite Pump Internals (Impellers, Casing Rings, Sleeves, Bushings, Bearings, and Mechanical Seals).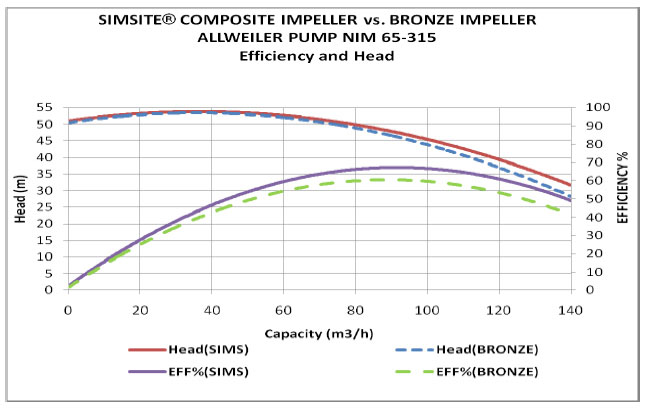 The above graph shows that changing the Bronze Impeller to a Simsite® Structural Composite Impeller increased efficiency 15.8%! The efficiency on this 20 KW pump (26.8 HP) went from 57% with a metallic impeller to 66% with a structural composite impeller – an increase of 9 points or 15.8%! At 0.11 cents per kilowatt hour this translates into a yearly savings of $2,218.00 per year, per pump! After only 1 year of service in a corrosive environment such as salt water, the metallic impeller, which was originally bronze, begins to corrode, which further reduces efficiency. Depending on the service, and the temperature of the salt water, and how the pump was operating, the efficiency will be reduced by as much as 5% to 7%, or more, resulting in additional energy costs! Upgrading to a Simsite® Structural Composite Impeller will not only increase efficiency 15.5% from the start, but will also prevent the losses in efficiency as a result of corrosion resulting in a total saving to the Customer of more than 20%! This results in a yearly savings of $4,155.00 per year per pump!