SIMS®

Split Stabilizing Bushing
for All Pumps & Rotating Equipment!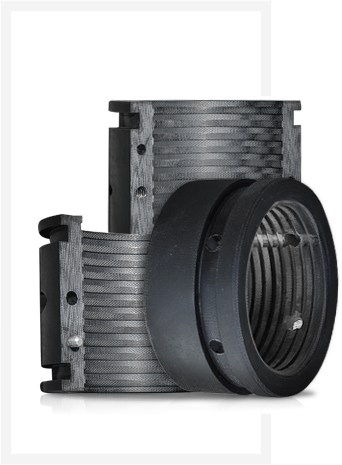 Any Shaft, or Rotating Element can now be secured with the SIMSITE® Structural Composite SPLIT STABILIZING BUSHING! The SIMSITE® Split Stabilizing Bushing Reduces Shaft Deflection & Vibration and is 100% machined on the outside as well, as the inside from solid blocks of the patented SIMSITE® Structural Graphite Composite. This SIMSITE® Split Stabilizing Bushing is NOT cast, or molded. The two halves of the stabilizing bushing are 100% concentric with each other and can easily be manufactured to specific bore and shaft sizes.
The SIMSITE® Structural Composite Split Stabilizing Bushing is pressed into the stuffing box (mechanical seal chamber) For uneven Seal Chambers the SIMSITE® Split Stabilizing Bushing has O-rings on the outer diameter. SIMSITE® Stabilizing Bushings can be manufactured to any size, or shape to fit any seal chamber!.
Download PDF Brochure